Attention: Trainer and Exercise Enthusiasts!

Bounce back from workouts and injuries as fast as possible!
"Discover How to Recover from Workouts and Injuries with Lightning Speed"
World-renowned injury specialist reveals his secret science-backed workout routine that will help you speed up recovery, reach your fitness goals faster and rapidly hit your peak!
Adequate recovery between workouts is absolutely essential to you and your clients' performance and continued improvement. If you do consecutive workouts without appropriate recovery time, you may be improperly prepared for the next training session and this may lead to injuries.
Thus, it is important to consider recovery as an essential part of your healthy lifestyle. Take the time to recover between sets of a given exercise or between interval workouts, and reap the benefits later. Learn the science behind recovery!
Recovery: The Essential Ingredient
Recovery from exercise training is a vital component of the overall training program and is fundamental for optimal performance all while staying injury-free.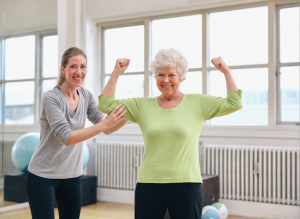 The Recovery Workouts techniques will provide you with:
3 different techniques that you can use to help you recover from a workout
Correct exercise sequence to speed up your progress
Exercises Do's and Don'ts if you have aches and pains
Unconventional tools and exercises that you can use to achieve maximum results
You will definitely reap all these benefits, but first, let me tell you a bit about myself.
Rick Kaselj, The Founder Of Recovery Workouts For Optimal Performance and Continued Improvement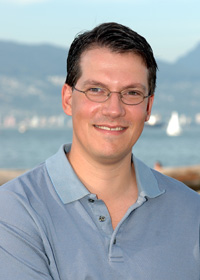 Hi! I am Rick Kaselj. I am an exercise and injuries expert and international presenter for effective exercises for injuries. I have written numerous articles that have appeared in newspapers, fitness magazine, written leading exercise injury manuals in the fitness industry and taught over 315 presentations to 6065 fitness professionals across Canada and the USA.
I've developed the Recovery Workouts program to help you and your clients rapidly recover from workouts and injuries.
Recovery Workouts is the result of 6 years of University study (including a Master's Degree in Exercise Science), 18 years of hands-on experience, constant searching for the best recovery techniques, and teaching these recovery techniques to thousands of other fitness and health professionals who have used these techniques to help their clients. Plus thousands of personal training sessions with clients suffering from injury and pain, plus the careful scrutiny of 141 medical research papers.

How this Whole Thing Came to Be……
Injuries kept slowing me down.
I had moved up to Penticton, BC, Canada to train for the Ironman Triathlon. This was a life long dream.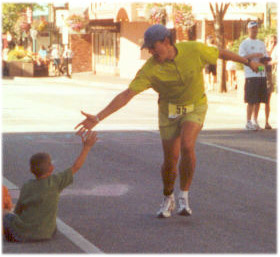 As I was increasing my mileage, I kept getting aches, pains and minor injuries that slowed me down.
It was getting very frustrating. As I ramped up my training, some kind of injury would knock me back.
I looked at what I was missing in my training program. The structure of my training program was solid.  I had good balance when it came to training for the three events and a good amount of rest, plus my nutrition/hydration was good. But still the aches, pains and minor injuries forced me to decrease my training or take days off.
I started looking at what I was missing in my program.
In order to help myself with the recovery, I decided to go for massage therapy by a certified massage therapist. I was shocked at how many sore areas she had found on my body. As she worked on my body, the sore areas started to subside. It felt great after the massage and the next week's worth of training was awesome.
I started thinking of alternatives so I don't always need to see a massage therapist. It would be great to go the massage therapist every day or have one on staff but for a regular Joe or Jane, but this isn't realistic. I started looking at self massage resources in the library. I came across some great books and they gave me a number of ideas on what to do.
I came up with a self massage routine that I could do after a training session or before bed. I started using different tools to give me different types of self massage techniques.
5 Reasons To Incorporate Recovery Workouts To Your Overall Training Program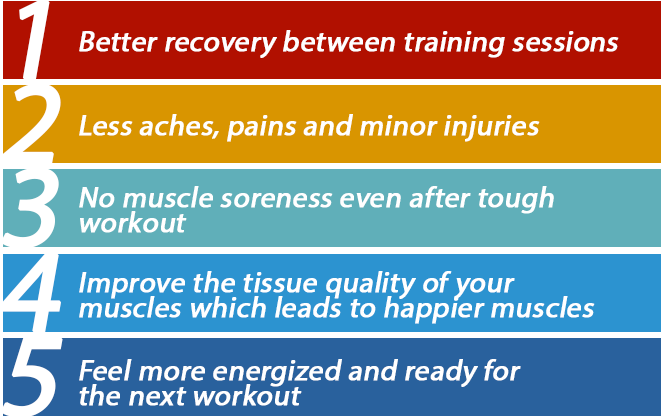 "Really Easy to Do"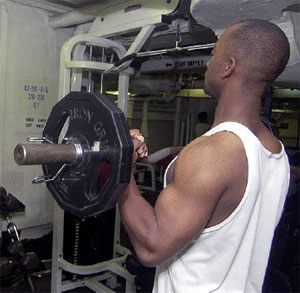 "The Recovery Workouts Program is really really easy to do (as it should be). It is another useful tool in my toolbox."
Rob B
The Hague, The Netherlands
What is in the Recovery Workouts Program?
Component #1: Rolling Recovery Workout
($37 value)
I will take you by the hand and lead you through the best exercises to relieve muscle tension, help prevent injuries and prepares the body for the next workout.

You will be shown:

9 simple movements that you can do with a foam roller and your body weight to give you that after-massage feeling.
How each of the movements targets an area in the body prone to tension, and helps relax the muscles to release the tension and energize the body.
How to prevent injury and get your body ready to perform and get maximal results in your next workout through foam rolling.
Component #2: Self Massage Recovery Workout
($37 value)
This Recovery Workout uses the power of touch to target common areas in the body that hold tension, restrict movement and lead to injuries.

Essential key points that you shouldn't miss:

You will be shown:

8 simple touches that you can do with your fingers and hands to release tension in your body which can be done anytime and anywhere.
Learn how a simple up and down movement or circular movement can help remove toxins, promote circulation, release emotional stress, and relax your muscles.
Exercises are easy to follow and require no equipment. You get that relaxing, centered and balanced feeling that a massage gives you.
Component #3: Pain Ball Recovery Workout
The focus of the Pain Ball program is finding those hidden tight areas and relaxing them using the combination of your body weight and a simple ball. These hidden tight areas build up over time due to poor posture, poor body alignment or heavy training.

Here's what you will get:

A set of 8 simple movements that you can do with a ball and your body weight in order to give you that deeper massage feeling.
Each of the movements targets an area in the body prone to tension, and helps relax the muscles to release the tension and energize the body.
Techniques that will help you find tight muscles that you did not know you had.
Component #4: Unconventional Recovery Workout
($37 value)
The tools and exercises you find in this component are a little weird but will challenge your body in new ways. With these unconventional training tools you don't even have to own a garage; your gym can be anywhere you want to exercise.

This workout routine will:

Challenge your weaknesses and get way out of your comfort zone with these non-traditional routine.
Help get rid of the stiffness from driving or a flight plus help release the tension in the muscles.
Improve mid-back movement as well as decrease calf, IT band, quads and hamstring tension.
Component #5: Golf Recovery Workout
($37 value)
Without recovery, you can't adapt to your workout and can't play well. Get stronger and faster as you learn how to execute a golf swing correctly and prevent injury or strain. I will show you how to properly do the exercise for maximum results and stay injury free.

Here's what you will find:

Stretches that will ramp up your workout recovery and gain performance (No equipment needed!)
Strategies to develop stronger muscles to increase fitness level and play your best.
Golf mobility drills to add even more power to your swing.
TO MAKE THINGS EASY FOR YOU, WE'VE BROKEN YOUR
INVESTMENT UP IN TO 4 EASY INSTALLMENTS OF JUST $1.00.
I wanted to give you the chance to get your copy of Recovery Workouts for just 4 Payments of $1.00.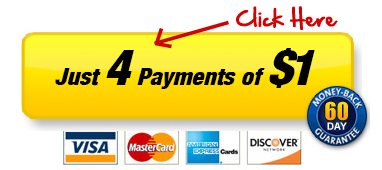 Click here now to order The Recovery Workouts Program for $57 $4.
Yes, you read that right… you will get the ENTIRE 5-Component Recovery Workout Program for just $4 when you order today!
Your Recovery Workouts Program: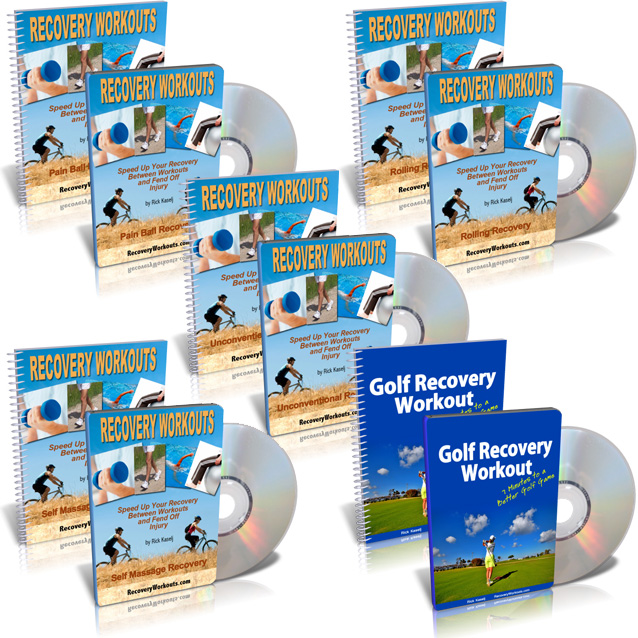 Summarizing what you will get for $57 $4:
Rolling Recovery Workout ($37 value)
Self Massage Recovery Workout ($37 value)
Pain Ball Recovery Workout ($37 value)
Unconventional Recovery Workout ($37 value)
Golf Recovery Workout ($37 value)
Why am I Giving Away The Entire Program For $4 ONLY?
I am sure that you are wondering how on earth I got the idea to offer this program at insanely cheap price.
There are three reasons why I dropped down the price of this entire system down to only $4.00.
Firstly, doing this is not a sensible business decision. But I want to help as many people as I can to bounce back from their workouts as fast as possible without the risk of injury.
Secondly, the biggest reason why people won't buy a program is because of the price. I want to take that obstacle away! I'd like to make it an easy decision for you to grab the program by giving it away at a super affordable price and provide you a comprehensive detailed step-by-step program that will enhance your capacity to rapidly recover and achieve a high-level of performance during your next training session.
Lastly, it is a selfish reason. I am hoping that you'll be stunned at my flagship program called Recovery Workouts and will try out my other programs as well then recommend them to your family, friends and colleagues.
So now you get a total STEAL on this entire system, not for the regular price of $57, but for $4.00!
Regular Price $57
Yours Today For 4 Payments of just $1.00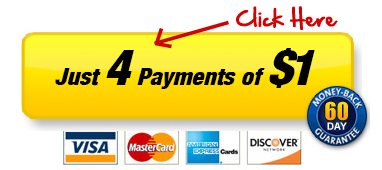 Click here now to order The Recovery Workouts Program for $57 $4.
FAQS ABOUT RECOVERY WORKOUTS
Question: I have been told that I need to focus on strengthening when it comes to preventing aches and pains?
Strengthening is important in order to help you prevent injuries and perform better but you also need to pay attention to muscle recovery after your workout.
Stretching, foam rolling and ball massaging are better ways to help decrease the tension in the muscle, improve circulation and prepare your body to accomplish even more at your next workout.
Question: Why does your program take so long to work?
It won't take long for you to see and feel the results if you follow the exercises correctly.
I recommend that you perform each of the recovery workouts daily or one of them three times a day for a few days so you can get on top of the tension in your muscles.
Question: I have a bunch of exercises that I have been given to me to help me with my aches and pains?
Exercise is very important.
Most times, the focus is on stretching when it comes to recovering from a workout. The thing is, I don't find that to be as effective as foam rolling or ball or self massaging.
Ask yourself, how the exercises work for you? Do you feel any improvements or is it not helping you very much? If it is not helping you much, think about recovery workouts.
Plus, the exercise sequence which is highlighted in this system is very important.
Question: Are these more exercises that I have to do?
No!
I learned a long time ago that the biggest thing missing from recovery is massage.
Like I said above, getting a massage is expensive.  In the recovery workouts I go through three different techniques that you can do to help your body recover from a workout without having to go to get a massage after every workout.
Question: I was surfing around the internet and found a bunch of exercises that help with recovery?
There is a lot of information available on the internet when it comes to recovery.
This information you may find online only focus on one component of my recovery program. It may be just about stretching. It is a fact that stretching helps in recovery but I find self massage as the most effective component in a recovery workout plan.
Question: How long does it take to get my DVDs?
No waiting game.
You get the Recovery Workouts Program right away.
After your order, you will instantly get access to the video guide, exercise manual and videos.
You can download the entire system to your computer and get started right away. No need to wait for anything in the mail.
In 7 days, if you don't feel a decrease in your aches and pains You Get Your Money Back!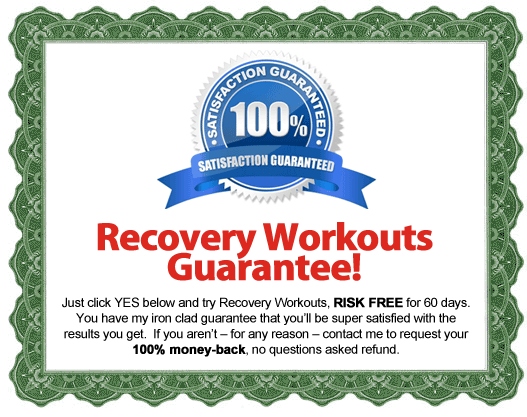 If that is Not Good Enough, Try Recovery Workouts Program For The Next 60 Days With A No-Risk, 100% Money Back Guarantee!
"Test drive" the Recovery Workouts Program for the next 60 days with absolutely no risk so you can fix your aches and pains and get your body ready for the next workout or activity. You can feel completely safe because you are protected by my iron clad 100% money back guarantee.
You will not only be satisfied, I guarantee you will be thrilled and amazed with the Recovery Workouts, you can simply email me and ask for a prompt and courteous, no hassles, no questions asked, 100% refund.
In fact, if you're not completely happy for any reason at all, then I insist that you ask for a refund. However, after seeing so many men and women end their aches and pains in a quick and effective manner, I am confident that you will be thrilled as well.


Helping you on your health and fitness journey,
Rick Kaselj, MS
Author, Recovery Workouts
P.S. – There is NO RISK at all for you when you try the Recovery Workouts Program. If you are not thrilled how this program decreases your aches and pains, let me know and I will refund your order. Your satisfaction is 100% guaranteed. Rick Kaselj has been trusted by the largest fitness & rehabilitation associations in North America (NSCA, ACE, CanFitPro, BCRPA, BCAK, CKA, NHPC).
P.P.S – If you are sick and tired of not knowing what to do after exercises, now you can find out. CLICK HERE to End Your aches and pains
P.P.P.S. – There's only one catch to all of these. You need to act now to get the complete package. I've been told this package is way too cheap now and the price will be going up very soon. So, if I decide to keep the price the same, a few of the components maybe removed at any time and put up for sale separately.
Regular Price $57
Yours Today For 4 Payments of just $1.00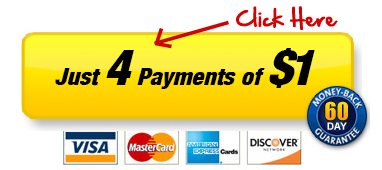 Click here now to order The Recovery Workouts Program for $57 $4.
NOTE: The Recovery Workouts Program is a downloadable video and e-book. No physical products will be shipped. After you order, you will get INSTANT ACCESS to download the video and e-book. The e-book format is adobe acrobat PDF, which can be viewed on Mac or PC. The video format is M4V which can be viewed on Mac or PC. If you have any questions or need help, you can contact us at support (at) ExercisesForInjuries.com.